Hello,
I'm a #1 best-selling Kindle author.
I've published over 100 books on Amazon and Kindle.
I've made many thousands of dollars in royalties.
I'm friends with many high grossing authors and publishers. My partner Jay Boyer is also a #1 best-selling author. My customers and clients are gushing royalties and many of them are #1 best-selling authors.
Cash is flowing for us.
But, hold on, here's what really matters…
Do You Want to Get More Easy
Passive Cash From YOUR Kindle eBook?
Does this sound like you?
Have you ever spent months writing a killer book only to see a pitifully small handful of sales drip in when you finally launch it to Kindle?
Are you tired of seeing lower-quality ebooks with terrible reviews and laughable covers become instant #1 Bestsellers (and stay there forever)?
Are you frustrated, tearing your hair out… on the verge of throwing in the towel, bothered by the nagging thought that this "Kindle thing" doesn't really work?
If so, you're really going to get a lot out of what I have to share with you.
That's because, I'm going to clearly explain…

Why Most Kindle Authors
FAIL to Make More Money
I know what's going on, and it has very little to do with picking the right niche, or having a great cover, or getting the title right…
(Or, anything else that "they" keep telling you.)
Look, I know that's shocking… and I'm not saying those things aren't important.
They are! The cover, the niche, the title…
But, they don't CAUSE author's to lose royalties. It's something else.
Something bizarre, against logic.
That's why I need you to pay close attention right now.
Because, here is…
The Real Kindle Breakthrough
That No One is Talking About
Other people simply don't know the secret… and if they did, they probably wouldn't share it with you.
But, I will.
Here it is –!
We've been trained to think about books and publishing as if we're publishing physical, dead-tree books.
And many people — perhaps you! — feel like they're crawling through molasses.
But, the TRUTH is that there's been a breakthrough:
The Amazon Kindle publishing system gives you the ability to instantly adjust prices… and have those changes TAKE EFFECT in 24 hours or less
Poor authors are not taking advantage of this radical change.
Smart, rich and royalty grabbin' authors are raking it in.
This is for YOU:
The Intelligent Author's Secret Weapon
In addition to easy price adjustments, you've got THIS.
Access to real-time sales data for any Kindle ebook you publish.
Login, check sales.
Oh, hot mama –!
And yes…
You can ALSO check on your sales rank compared to other books in your market. You know how you stack up… RIGHT NOW.
So, as a Kindle publisher you know how much money you're making (or not!) and how well you're doing in your market.
I'm now going to transform this knowledge into real money. I will weave it together, so that you can get…
FAT ROYALTIES.
But, you must keep reading…
Eight Minutes of 'Work' FORCES
Amazon to Spill Out More Royalties
So, here's what you do.
Each day (or if you're lazy, each week, or each month) you just check your sales and ranking.
Depending on how you're doing, just do this —
When you're getting a lot of traffic to your Kindle book, RAISE the price. Harvest those royalties, baby.
When your sales start to drop and you fall behind your competition, lower the price and increase the traffic.
It's simple…
When you're getting traffic, grab the money (raise your price).
When you're not selling, increase traffic (lower your price).
But, let's dig a little deeper.
How to Get More Money Right Now
(The Shocking Truth About Kindle KDP Select!)
The truth is what I just gave you WILL get you started but it's NOT enough…
Because you need to understand Amazon KDP Select program.
It's only fair that I explain this to you, without holding anything back…
By using the simple formula above you WILL make more money.
But only a little bit more. (How's that for blunt, honest and open truth!)
You see, to really turbo charge your results, you absolutely must be using the KDP Select program in exactly the right way.
KDP Select is the "special sauce" of the dynamic pricing system I gave to you. And, so to make everything 100% clear, step-by-step and EASY to do…
Jay Boyer and I are spilling the beans…
Finally… Revealed at Last!
Kindle Select Secrets
Jay Boyer and I created Kindle Select Secrets when people started asking us about our best-selling books and when authors heard about our GROWING royalty checks.
Obviously, you can try to figure this all out yourself. But, why do that when you can cut to the front of the line…
Instant Access, Instant Downloads
Jay and I developed this training so you can start getting the royalties that you deserve… RIGHT NOW.
You don't need to figure it out on your own. You don't need to wait… or hope (!) for royalties to start increasing each week.
Kindle Select Secrets is designed to completely demystify Kindle KDP for you, so there is zero learning curve…
AND –
HUGE IMPACT…
Yes, You Start Today!
Find out exactly what #1 best-selling authors are REALLY doing to get more free royalties with tiny, perfectly-timed adjustments … but that have a huge impact.
This is fresh and hot… like Uncle Tony's Pizza!
So, here's what you're about to discover:
How to optimize your Kindle listing 5 ways to maximize royalties today
How to enroll your Kindle ebook in KDP Select (step-by-step!)
How to make your Kindle ebook stand out with a _____ or a _____ (unique!)
How to use simple FREE and paid traffic strategies to drive the maximum traffic
How force Amazon to cross-promote and cross-sell your Kindle ebook… EASY!
How 4 types of "bookworm blogs" will increase your traffic, fans and royalties
How to use the Kindle Lending Library to fatten your bank account… NOW!
How to combine KDP Select with "Dyanmic Pricing" for higher rankings
How to "juice" your KDP Promo days with an event on Facebook and Twitter
And much, much more…
OK, I know this is a lot… and I know you are thinking this is going to drain your PayPal account or max out your credit card. The value is crazy, I know!
But, as you will see in 23 seconds from now (or less) this is very affordable.
More importantly –!
If you want to explode your FREE ROYALTIES right now using Kindle's KDP program and our "ninja tricks" … this is essential.
This is So Crazy Hot…
Because it WORKS!
This is unique. No one is teaching this, because they can't…
And, we're risking that our secrets will be stolen… but we're doing this to expose the truth about Kindle's KDP royalty flood.
So –!
Although you might be worried about the price… fear not!
Access to Kindle Select Secrets
Is Only $9.90 … For Now…
But It WILL INCREASE!
Look, I bet you're wondering, "Why is this so cheap?"
It's NOT –!
It's just plain fair. (Nothing I do is "cheap" these days.)
Look…
These are proven strategies that work and most people would charge at least $47 or even $97 for this kind of high quality training. In fact, they probably would be greedy, or they wouldn't even share. But screw those guys… I care about your success.
My rock bottom price is confusing… I know! So, here's a peek behind the curtain.
How to Save $187.05 Right Now
It's important to me to give my customers outstanding value. It's good for my reputation. It allows Jay Boyer and me to reach more people. (We both… CARE.)
And, I'm looking for testimonials, case studies and feedback, so that I can make even more improvements and turn this into one of those monster $197 courses… no joke.
OK, so the bottom line is the bottom line: The price won't be this low forever. Got it?
But don't worry at all… that's because if you ACT NOW you can enjoy the rewards…
YES.
The Risk is On My Back Today,
Guaranteed for 30 DAYS!
I'm eating all the risk, like Cookie Monster chompin' on cookies. Munch, munch, munch…! I eat that risk, and love it because I have complete faith in this.
Furthermore —
If you don't completely and totally ENJOY this training then I don't want your money in my pocket. Jay Boyer doesn't want it either. We cannot keep it… it's YOURS.
Sent me a note and I'll happily refund all your money. I doubt you'll want a refund based on all the fabulous feedback about my products, but no worries… I've got you covered. The risk is on me.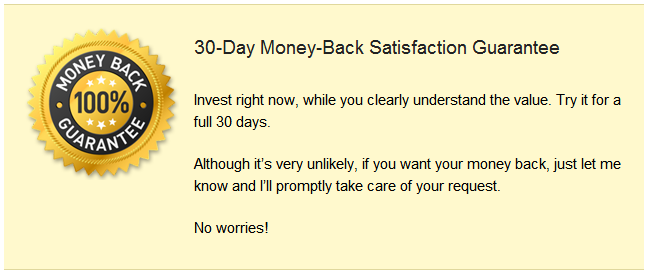 Jay and I are totally willing to put our own money on the line.
Sounds pretty fair, right?
And now, let's do a quick review –
Here's Everything You Will
Instantly Download… and MORE!
This is everything you are getting today, right now…
KDP Select Secret Core Training (14 Modules)
Module 1: Introduction to the KDP Select Program
Module 2: Amazon's love letter to self-published authors…
Module 3: What does KDP Select have to do with Amazon Prime?
Module 4: How are Kindle Lending Library revenues calculated?
Module 5: Do you really want "go steady" with Amazon?
Module 6: The pro's and con's to enrolling your ebook in KDP Select
Module 7: How to enroll your Kindle ebook in KDP Select
Module 8: 5 Ways to optimize your ebook listing to maximize royalties
Module 9: How to force Kindle to cross-sell your book (over & over)
Module 10: Combining KDP Select with "Dyanmic Pricing" to blast your book ranking
Module 11: Juicing your KDP Promo days with an "event" on Facebook & Twitter
Module 12: The 4 types of "bookworm blogs" (to generate traffic, fans, & revenue)
Module 13: How to make your ebook irresistable with a contest or giveaway
Module 14: Driving boatloads of traffic with paid and free promotions
Four BRAND NEW Bonuses (Members Only Access)
Case Study Bonus 1: How to Use Low-Hanging Categories to Get a #1 Bestseller
Case Study Bonus 2: How to Set Up a KDP Select Promo Day (Step-by-Step)
Case Study Bonus 3: How to Achieve Top 10,000 Ranking (Plus Results Review)
Case Study Bonus 4: How to Create 1,000's of Amazon Backlinks for Your eBook
Exclusive Special Report with Step-By-Step Instructions
How to Set Up and Use Amazon's KDP Select System  😉
Our Unique KDP "Dynamic Pricing" Chart (Easy Visual Reference)
Our Complete and Highly Detailed Kindle Select Secrets Mindmap
Fast Action Bonus: Live "Hands On" Training (Buyer's Only Workshop)
YES –!
And, there's more.
Chug, chug, chug… become your own list building money machine!
Unstoppable!
With that said…
Here's What You
Need To Do Right Now:
I've made this super simple.
As soon as you sign up you'll get instant access to everything I mentioned – you'll get the videos, cheatsheets, demonstration videos, the mindmaps, and more… you'll even get some cool bonus material. You'll get everything… no waiting!
So, click on the "Add to Cart" button below…
Yes!
I'm ready to make my investment in…
Kindle Select Secrets!
I understand I'll get access to Kindle Select Secrets for just $9.90 when I act now!
I also realize I have absolutely nothing lose with this training and everything to gain… since you're offering me a full 30 day money-back guarantee if I'm unsatisfied in any way.
5 REASONS TO INVEST RIGHT NOW
It's literally IMPOSSIBLE to find this kind of information — and this incredible quality — any place else. We're the only game in town. Your only other path … doing it yourself… will cost way more money and more time, if you can figure it out. (Why do this alone?)
This is the lowest price you will ever see for Kindle Select Secrets. This is premium training… at a Wal-Mart discount.
We're going to raise the price or completely pull this from the market, and it will not be available again. If we bring it out again, it'll be at least $97 or more. Investing now LOCKS you in at the lowest possible price.
You're getting real bonuses with real business value. What we deliver isn't lame. It isn't stupid or worthless. This is the "real deal" from two guys who "kill it" in the real world, day after day. Our students – like you! – crush it too. Join the inner circle.
Our guarantee is awesome. We're eating all the risk. And, if you're not 1,000,000% happy you get a refund — up to 30 days! — and I'll even throw a few bucks your way for trying it out. Awesome.
This Is How It Works for YOU… NOW
The process is extremely simple.
Order Now!
You will sink your teeth into our proven ROYALTY SYSTEM in less than 2 minutes.
So go ahead and order right now and we'll see you on the "other side" …
All the best,
~ John S. Rhodes and Jay Boyer
p.s. Are you a little "gun shy" as they say? Look, I'm taking all of the risk. No worries.
Read this closely...
We offer 100% refunds for this outstanding package.
Evaluate and enjoy Kindle Select Secrets for 30 full days for FREE… because if you aren't completely satisfied, then can simply submit a help desk ticket (from right inside the download area!) and we'll refund every penny. That's zero risk for you.
In case you missed this…
p.p.s. Aren't you finally ready to increase your royalties? Aren't you tired of silly products that promise you instant cash… but never deliver? Seriously, don't you want have a system that helps you get your fair share of Amazon's KDP cash? Aren't you ready to take charge of your passive income, using a proven system? (There's PROOF this works!) So, get off the fence and take action because this puppy is "cheap" at anything below $97. Think about it… Just a few extra book sales will fill up your bank account with piles of cash. Invest now, before it's too late…!
p.p.p.s. UPDATE! We might not raise the price… instead, BECAUSE DEMAND IS SO HIGH… we're talking about taking Kindle Select Secrets completely off the market. If you see a "404 – Page Not Found Error" or the price is $97, well, you've been warned. Right now is the time to strike… ADD TO CART!